Whether you are just starting your business in the fitness industry or have been familiar with club management for a long time – many questions may appear in your head. We present a few of the most important elements to pay attention to when choosing a system for managing a gym or health club.
There are more and more solutions in the market. Comparing so many offers can make you dizzy. That is why it is so essential that you have your list of priorities and functionalities necessary to implement your business model.
The time of the pandemic has shown how important it is to adapt to a new situation flexibly. It was possible to maintain the club's work continuity thanks to a quick implementation of online fitness classes or convenient payments for one-time classes. Therefore, even if you do not intend to use some options at the moment, think ahead about the directions of your business development and efficient response to new trends and situations.
If you don't look at all the benefits and work optimization that advanced tools can provide, the most obvious criteria, such as price or a multitude of functionalities, may turn out to be unreliable.
Have no idea which club management system is right for you? We understand how you feel, so we've outlined four questions you can ask yourself when choosing the right solution.
We have also written additional criteria to consider before starting the health club on the new system. We divided them into three categories:
technical issues related to the Software,
payment methods,
and the assistance provided.
Software
If you want a flexible solution, you will choose a solution in the Software as a Service module. You will have access to system data from every place and device that you use. No matter if it is a reception computer, your laptop, phone, or tablet. No installation is required here. All you need is internet access to log in to your club's account. The online solution provides you with data synchronization with a fiscal printer, schedule, and booking of classes, sale of memberships and services via the Online Member Area, mobile application, and access control in the club.
Moreover, the system is continuously updated, and new functionalities are available to everyone. You can use them on an ongoing basis, at no extra charge. You always have access to the latest version of the system. The eFitness system can be used on any number of stations, affecting the subscription price. Each employee can have a role set to see only the necessary part of his work and protect your operational data access.
Safety and compliance with applicable law may not be the most exciting topics, but it is worth knowing how formally prepared the system is. The system must be up to date with all standards and protocols.
On the example of eFitness – we have created the software infrastructure with reliability in mind, so we offer SLA at the level of 99%. All so that you can be calm about everything related to the security of your data.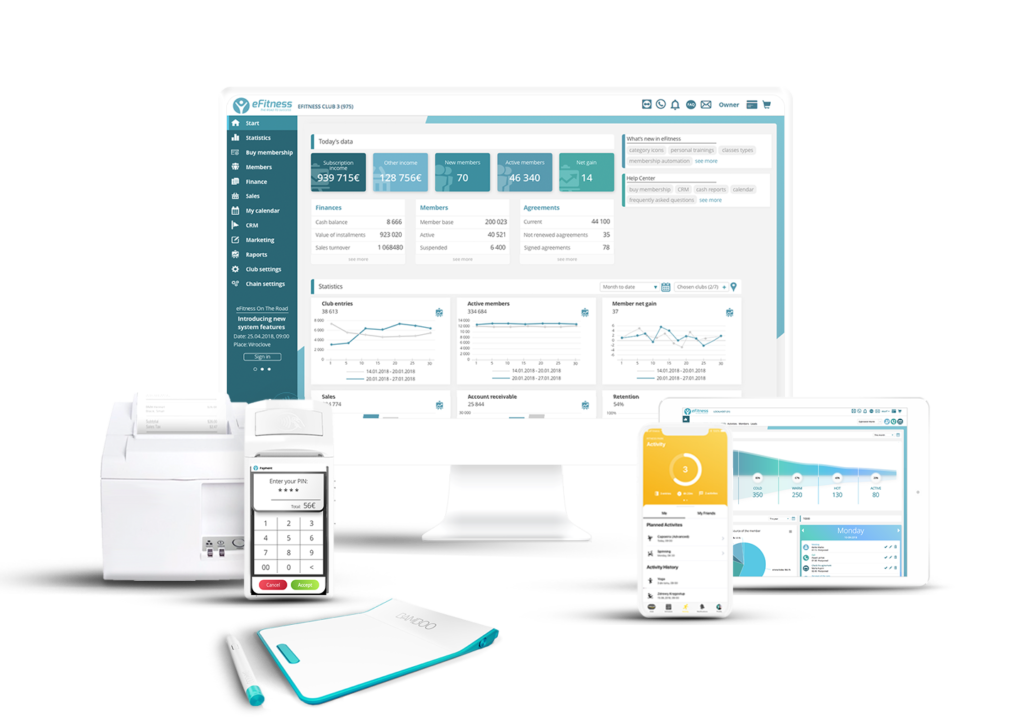 It is also worth checking with which fiscal printers the system works with and what additional equipment, such as access control devices.
Payment methods
Health clubs' management solutions in the SaaS model most often operate in the subscription fee model. You must know what this price includes and what services are charged additionally. Check what is in the monthly subscription of the chosen system.
Unfortunately, it may turn out that despite the initial low price, key modules such as CRM are additionally paid – it is worth knowing about it in advance and calculating the total monthly fee and the one-time implementation price.
In the eFitness system, you always have access to a complete set of modules. What's the reason? We believe that every club, regardless of the size and number of club members, should have access to full reports, CRM modules, and marketing tools – your efficient operation and development are the most important to us.
Sometimes, you have to additionally pay for such elements as mobile application or access control services. The eFitness system can integrate with many devices such as turnstiles, cards, and biometric readers. Automating customer service saves a lot of time at the club's reception.
Support
The assistance assured by the system provider shouldn't end with the ready-made Software in your hands. It is worth checking how the system's support works before the final purchase decision.
How long does it take to implement a new system? The implementation time and process are different for each provider. Therefore, it is worth knowing the expected time of launching the club on the system before signing the contract. In eFitness, the implementation process includes training in system functionality. Users get the tool with practical knowledge of how to use it. It is crucial to be able to operate effectively.
Another essential element is an efficient system for solving problems in everyday work. In eFitness, you have access to the Helpdesk System. About new functionalities appearing regularly in the eFitness, you will learn from the Knowledge Base. You will find their answers to all your questions about the system modules. The platform continually grows with new instructions and video tutorials.
It is also essential that you get to know the people on the other side of the Software. Make sure there are cool people out there that you will enjoy working with and talking to!
Do you want to know who we are and how we work? Follow our profile on Instagram.
The fitness club management system must meet your needs with price, functionalities, and service quality. It supports both the club's daily work and the implementation of your brand's long-term strategy and value.
But the most important thing is your convenience. And this is comfort understood as the certainty that everything is OK and goes according to plan. Contact many representatives before making your choice. Check not only what they offer but also how they approach their commitments. Can you afford to waste time and unnecessary nerves?