All-in-one cloud software solution to streamline multiclub operations
Whatever your operations looks like, eFitness supports them all.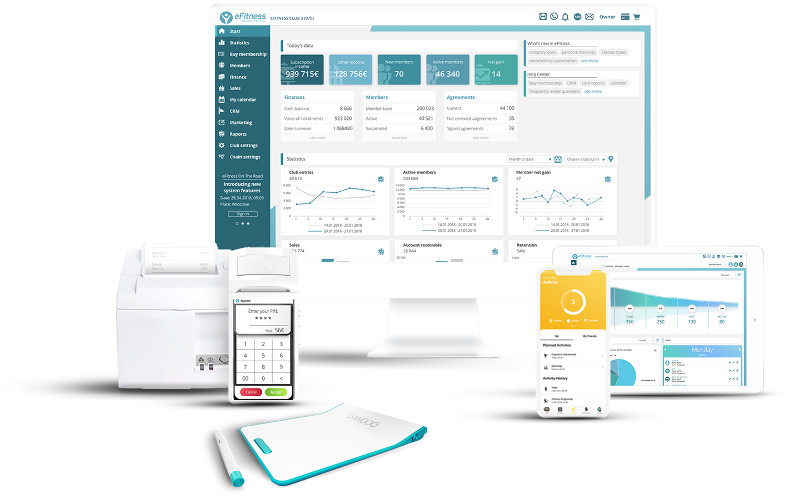 Complete SaaS Solution for Fitness Clubs
Transform your club using modern POS solution with CRM and ERP features
eFitness is built for clubs like yours
Save time, cut costs and remain flexible
Automation
Choose flexible mechanisms aimed at targeting members and prospects. Apply discounts, bonus systems, vouchers and more. Automate sales processes and reporting.
Reports
Acquire customers faster and retain them for longer! Take advantage of powerful performance measurement tools.
Finance
We support multiple options as online payments, recurring payments, in-club payments, and automatic payments. Customize billing functionality to your business model.
Mobile app
Connect your phone or tablet and stay always up to date
Let your members easily browse, select and sign up for classes, get on a waiting list if the number of participants exceeds a limit, receive notifications if something changes, and so much more.
Our mobile app for iOS and Android devices has been designed with cross-selling and up-selling campaigns in mind. Push coupons and other marketing messages to members who checked into your club and fulfill particular criteria.
The Road to your success
Leader in CEE and reliable partner in technology
We go the extra mile to help 1000 fitness clubs across Europe achieve their business goals.
We share vision to empower every fitness club to achieve more.
The eFitness software integrates digital technologies with in-club hardware into a seamless solution that raises your profit and efficiency.
60 M+ €
cash collection in 2017
eFitness empowers owners and managers behind some of the european best fitness brands

Start working better today
Try new possibilities and go further
Contact
eFitness Sp. z o.o.
ul. Goździkowa 6
60-175 Poznań
POLAND
info@efitness.com
+48 61 666 12 88
Subscribe to eFitness news